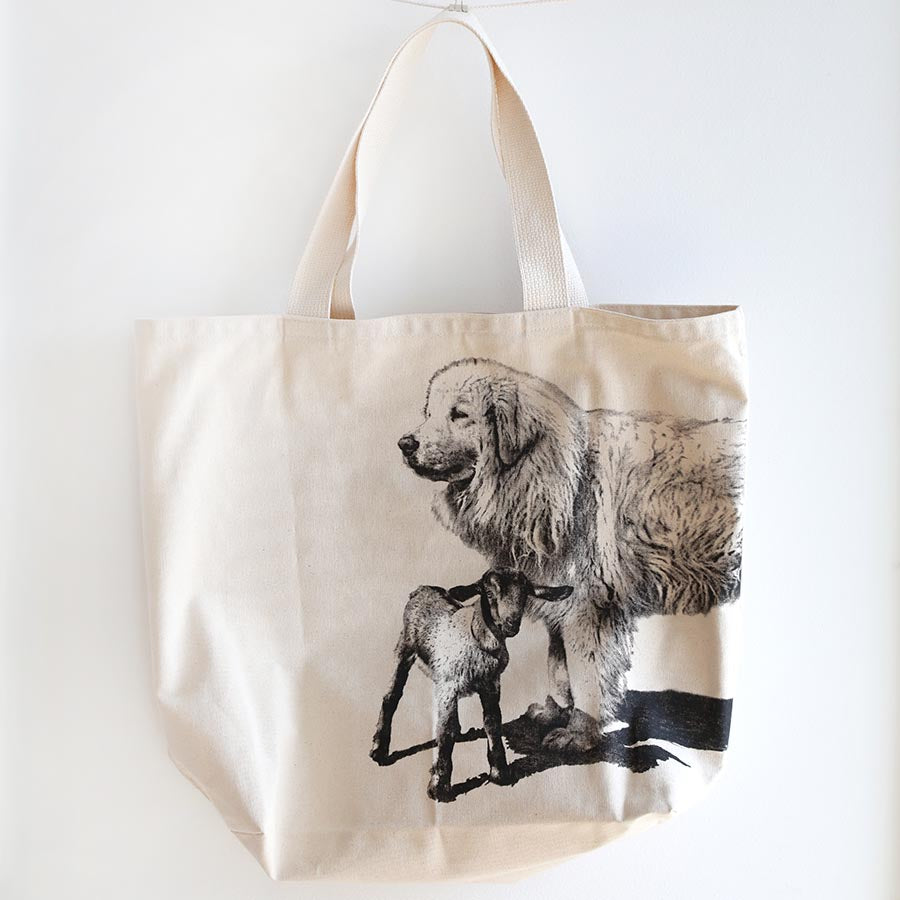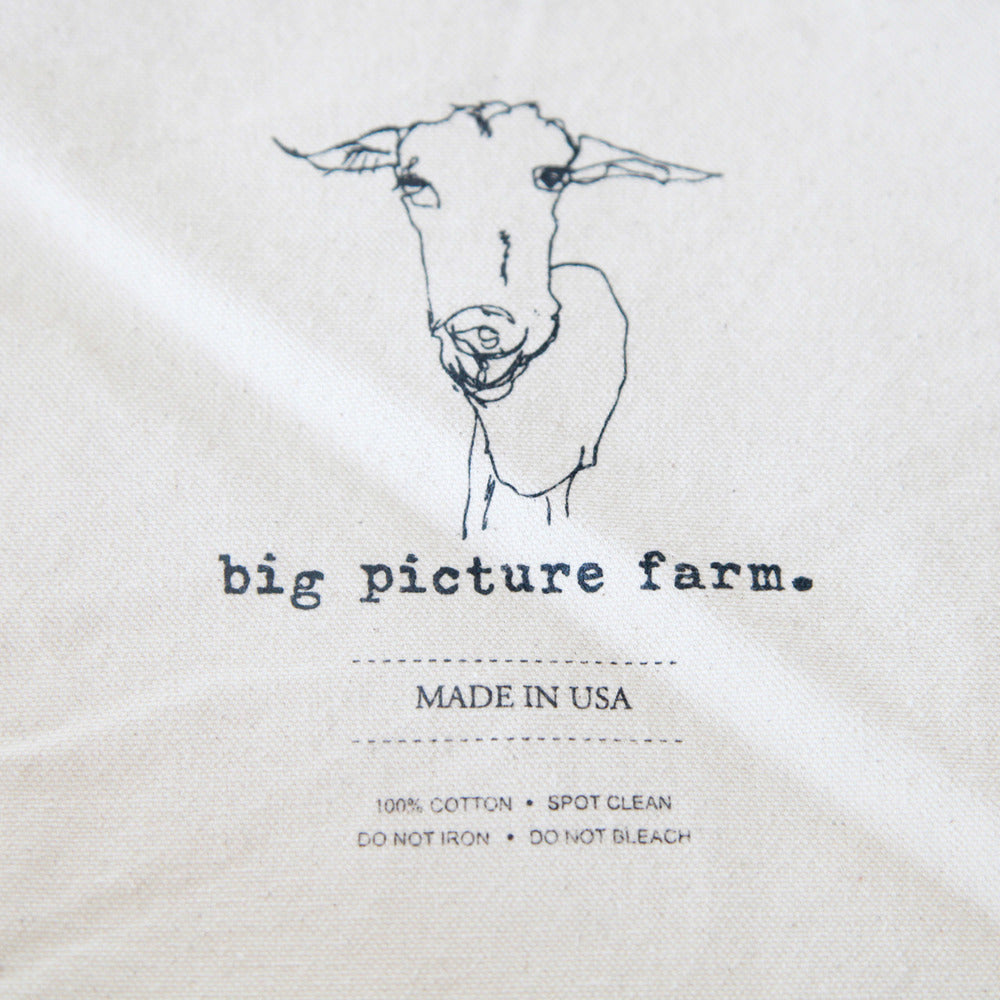 Large Canvas Bag featuring Elvis & Kid!
This is a beautiful 100% natural cotton canvas tote that has been screen printed and sewn in the USA. Perfect for a trip to the beach, or stuff it with your yoga mat and supplies. It is on the larger side, measuring 6" width x 16" bottom x 17" tall.
More importantly, this tote features our beloved Elvis, the king of our hill, the king of our hearts. Guardian of the goats, the hens, the pigs, the garden. He is our everything. A dog with a soul a million years old. Here is pictured with one of his newest charges, a baby kid.
Share
We use only high-quality, GMO-free, local and/or organic ingredients to supplement our primary ingredient and principal flavoring agent: fresh, raw, creamy and delicious goat milk from our own farm! CLICK HERE for list of ingredients.
We cannot accept any returns on food items, including caramels, chocolates, and cheese. If a food product is ordered by mistake, Big Picture Farm cannot give credit or replace free of charge.
We can and will replace any products that arrives damaged so long as we are notified immediately.
For non-perishable items, including apparel and tea towels, we will accept returns/exchanges if returned to us immediately and in the same condition in which it was received. Customers are responsible for the cost of shipping the item back to us and should be mailed to, along with a note of explanation, to:
USPS: Big Picture Farm, PO Box 344, Townshend, VT 05353
UPS/FedEx: Big Picture Farm, 109 Grafton Road, Townshend, VT 05353
PROCESSING TIME FOR ORDERS
We make all of our caramels and chocolates fresh for every order, and this can require up to 4 business days depending on the product you are ordering and our production schedule. If you are ordering caramels and/or apparel or other non-perishable gift items, you can expect that orders will ship out the next business day, as we almost always have those in immediate stock. 
However, if you are ordering chocolates and other special confections, please be aware that it can take us anywhere between 1-4 business days to produce the chocolates PRIOR TO SHIPPING. For instance, if you order our Turtles or Goat Tricks Bar or Truffles, it could take us up to 4 business days BEFORE it ships. When you select a "shipping option" you are merely selecting the transit time, not total production plus transit time. So if you order Chocolates, then select 2-Day Express due to warm weather in your area, then the total time it will take to take your order could be anywhere from 4 - 6 business days.
DELIVERY OPTIONS
We ship with UPS, FedEx, and USPS depending on the time of year, size of package, and destination. Transit times vary depending on destination. Standard deliveries are only made on weekdays.
During Warm Weather Months (May-September), "standard delivery" service is only offered in New England. To all destinations outside of New England, 2-Day Express via UPS or FedEX must be selected to avoid melting.
RESTRICTIONS
Please note that we cannot ship to P.O. Boxes if you select a 2-Day shipping option via FedEX or UPS. You must provide a street address for your order. Be sure to include appropriate suite or apartment numbers when necessary to ensure proper delivery.